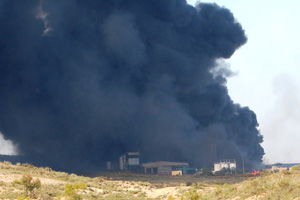 RESIDENTS in the Almanzora Valley alarmed over the toxic smoke from the blaze at the plant in Albox have been told there is nothing to fear. The Junta de Andalucia claims toxicity levels show there is no risk to the local population. Tests have been carried out by the Andalucian Emergency Group which indicate that the chemical composition of the column of smoke which can be seen for several kilometres presents no danger.
A fire broke out at the Geocycle recycling plant, which belongs to the Holcim España Group, last weekend, and although it was brought under control by firemen, smoke could still be seen from the plant on Tuesday.
While the Junta de Andalucia Environmental Department has said there is "no cause for alarm", environmentalists have described it as "one of the most severe environmental catastrophes in the province in recent years."
Albox Town Hall assured residents there is no need to wear face masks.
Geocycle manages authorized waste, including paints, varnishes, sawdust and fuel containers, and it is believed the fire spread so quickly as none of the 40 employees were on duty at the time.
Some 2,000 square metres of the facilities have been destroyed of the total surface of 90 hectares.
As well as the normal fire services from throughout the province, a fire engine was called in from Almeria Airport to douse the fire with foam.
No-one was injured in the fire, despite flames several metres high.
Ecologistas en Accion have said that the fire will have a serious impact on the atmosphere and presents a risk for residents in surrounding areas where the smoke is being blown by the wind.
In 2009, the plant produced more than 40,000 tonnes of dangerous waste, which is mainly used to generate energy to make cement at the plants in Carboneras and Gador, official data shows.
Although the environmentalists have said that burning this waste emits carcinogenic substances into the atmosphere as well as causing respiratory problems, the local health centres have reported that they have so far received no complaints.
They have received enquiries from people wanting to know whether it was advisable to stay indoors or wear masks when outside.
By Jennifer Leighfield