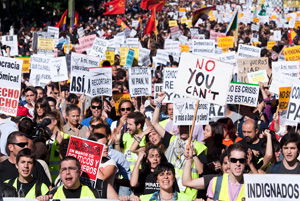 THE length of every Spanish road is calculated from Madrid's 'kilometre zero' located in the Puerta del Sol Square. Since May 15, this is also where Spain's democracy has been measured up, following massive but peaceful demonstrations there and in Spain's principal cities.
Demonstrators were summonsed via networking sites like Facebook and Twitter by Democracia Real Ya (Real Democracy Now), an alliance of around 200 small groups, which came up with the '15-M' label.
There were many students present but demonstrators were not exclusively young and there were older faces to be seen in Madrid and in every other city where 15-M protests were held.
No particular vote was promoted because 15-M opposes the political system dominated by the PP conservatives and the PSOE socialists. The influence of the money-men was equally disparaged.
Few in Spain are untouched by an economic crisis not of the country's making although the global crash exposed the flimsiness of an affluence dependent on a buoyant property market and construction industry.
"The money's here but it isn't reaching the right people," a young woman nevertheless insisted to a television interviewer.
The Madrid protesters remained after May 15 despite attempts to remove them on May 18. They were allowed to remain even after the electoral committee claimed they breached the pre-election "day of reflection" because they were not campaigning for any political party.
Placards were often good-humoured – "Yes we camp", said one – and the atmosphere bordered on the festive in Madrid's Puerta del Sol. But a grimmer slogan proclaimed "No house, no job, no pension. No fear."
Fear is there. Underlying the protests was the apprehension of a generation of young people without work and little in the way of benefits to provide a safety net.
There is just over 20 per cent unemployment, and 43 per cent of young people are jobless. Little wonder that many call themselves "the angry ones."
Their favourite chant of "They say it's democracy but it isn't" is less easy to understand, when their right to demonstrate and camp in the Puerta del Sol proved that whatever else was lacking, they were not denied democracy.
The fate of the Tiananmen protesters will not be theirs, and more than one political commentator complained that they made the classic mistake of expecting democracy and prosperity to go hand in hand.
Will the 15-M movement bring political change? Even France's May '68 protests did not manage that, despite its social impact.
"We want change," Pablo Canto, a 23-year-old journalism student said before last Sunday's election. "Things just can't go on as they are."
Most of Spain would be inclined to agree with him, but suspect that for the time being they probably will.