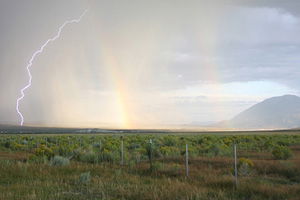 A 16-YEAR-OLD girl died in Navas de San Juan, Jaen, when she was struck by lightning. She was working in the countryside when the event occurred, despite being heavily pregnant, and was rushed to a local health centre, where she was resuscitated. From there she was taken by ambulance to a hospital in Linares where she later died.
She was well-known in the town as she and her husband sold fruit at the municipal market.
At the time of the accident a fine drizzle was falling in the area and there were very few bolts of lightning. Just hours before and shortly afterwards, there was full sunshine.
Her sister, who was with her at the time, was also injured.
Picture Credit: superfantastico