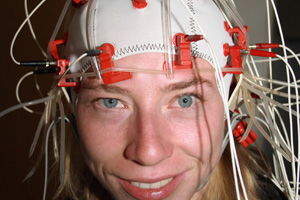 A MACHINE that 'reads minds' could soon be a reality. Scientists are now able to decode brain signals related to vision. Six volunteers were showed images of people's faces displaying different emotions including happiness, fear and surprise. Parts of the images were randomly covered so that only parts of the face were visible and participants asked to identify the emotion while electrodes attached to the scalp measured their brainwaves.
There was a significant variance in brainwave activity depending on which part of the face was being looked at.
Active thinking 'beta' waves were recorded when looking at eyes, while the more relaxing 'theta' waves were linked to the mouth.
"It is a bit like unlocking a scrambled television channel. Before, we could detect the signal but could not watch the content, now we can," explained Professor Philippe Schyns from the University of Glasgow.
"What we have done is to find a way of decoding brainwaves to identify the messages within."