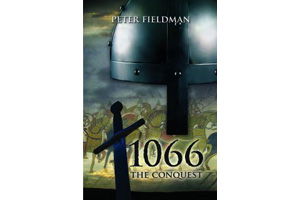 1066 The Conquest: The Story of William the Conqueror, the man who changed the course of English history by Peter Fieldman. 1000 years ago a Norman Duke led the last invasion of England. But who was William the Conqueror? England's defining moment in history has been given new treatment by English writer Peter Fieldman, who has spent much of his adult life in France and now lives in Madrid.
Rather than another history book, it is an adventure story – part fact, part fiction – and follows the events depicted in the most famous and unique reference still in existence: The Bayeux Tapestry, housed in the Tapestry Museum in Bayeux, France.
1066 remains one of the most significant dates in English history. But the man who became William 1 remains an enigma. The novel tells the story of the illegitimate child who became Duke of Normandy at eight years old on the death of his father and survived numerous attempts on his life to become the most powerful medieval warlord of his time.
His marriage, which produced nine children, lasted for over thirty years. He befriended the English Earl, Harold, before they became bitter rivals and then led the largest fleet in history to invade England and defeat the Saxon King to take the crown of England before his fortieth birthday.
The author has adapted the story into a screenplay as there has never been a major movie about 1066. The timing could not be more appropriate given that 1000 years on there is every probability that sometime this century another William will be crowned King in Westminster Abbey.
Book review by Gabrielle Devon