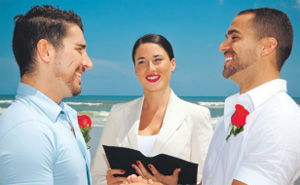 EIGHT out of 10 young Spaniards accept homosexuality, revealed the official social survey organisation CIS. Nor did political orientation affect the 1,411 participants aged between 15 and 19 who responded to CIS questions, as 71 per cent of potential conservative voters shared this view.
Despite this overall picture of a tolerant younger generation able to co-exist with sexual diversity the CIS survey also detected an 'important deficiency inaffective-sexual education'.
It was important to be able to discuss sexual diversity openly, said 86per cent of those asked, while 81 per cent could accept sexual relations between men and 84 per cent between women.
Same-sex marriage was acceptable to 76 per cent and 74 per cent were in favour of operations for gender reassignment in adults. There was scant sympathy for the view that homosexuality was an illness, opposed by 86 per cent, while 81 per cent said that nothing would change if they learnt that their best friend was gay.
It was also irrelevant whether a teacher was gay, said a further 81 per cent. There was less openness within the family, however, and most of the participants would have difficulty in explain to parents that they were gay.
Only 22 per cent believed that parents would understand if a child entered into gay marriage or underwent an operation for gender reassignment. It would be 'rather difficult' telling their father for 67 per cent, while 52per cent would have problems telling their mothers.