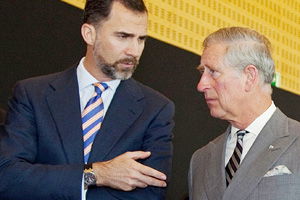 PRINCE FELIPE is capable of being king, believe 86 per cent of Spaniards. The Prince of Asturias, who is heir to the Spanish throne, had enough support and social validity to succeed King Juan Carlos, a slightly lower 79 per cent told researchers. Even those who voted for Izquierda Unida, the furthest-left of Spain's political parties, agreed that the Prince could count on enough support to eventually rule Spain.
The 35-54 age group belonging to all parties was the most enthusiastic, with 83 believing Felipe had enough public support to rule, followed by the under-35s (74 per cent), followed by the over 55s (74 per cent).
Overall, Prince Felipe received a 6.7 out of 10 for the way in which he carried out his duties from 5,000 people participating in the "Pulso de España 2010" survey.
This score varied according to political party, so conservative PP voters awarded Prince Felipe 7.3, the PSOE socialists gave him 6.8 and IU just 4.9.
Despite the comfortable majority of Spaniards who support the monarchy, the number preferring a republic with an elected head of state had grown since the previous survey from 11 to 35 per cent.
A parliamentary monarchy continued to be the first preference of the majority of Spaniards, although support had decreased over the past two years from 72 per cent to 57 per cent.
King Juan Carlos retains his popularity, receiving an overall 7.3 out of 10 for the way in which his has carried out his royal duties in the 35 years of his reign.