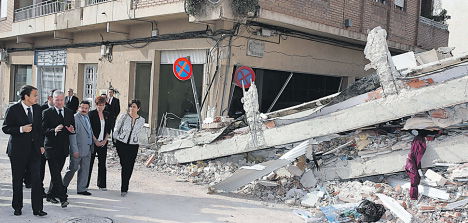 LORCA'S double earthquake will cost insurance companies €70million although €700million is needed, said Murcia' regional government. Insurance estimates of the damage caused by the two earthquakes which claimed nine lives on May11 were between €65 and €70 million, said Treasury Minister, Elena Salgado.
This was a 'very initial' estimate, Salgado admitted, and the final figure would depend on the number of claims submitted and assessments made on the ground. The president of the Insurance Compensation Consortium would also bedirected to extend the deadlines for submitting claims.
Lorca's Mayor, Francisco Jodar, had told her there may be difficulties in making claims within the required period and emphasised residents should have no worries on this point.
The consortium's offices would be open for as long as required to offer as much technical help as was needed and cover the appropriate compensations. No effort would be spared to ensure that Lorca returned to its former state, with its cultural and historic heritage intact.
There would be homes 'for all the citizens,' Salgado pledged, and jobs like those they had before the earthquakes. The actual cost of the earthquakes was 10 times higher in the opinion of Murcia's Regional President Ramon Luis Valcarcel.
Lorca had suffered some €700 million in material damage, he told an Onda Cero interviewer on Sunday. As well as nationa and regional assistance, there were other sources of help, and steps were now being taken to obtain funds from Europe to rebuild Lorca.
The regional and central governments will split the cost of rebuilding the damaged houses, as well as basic services like schools and health centres.
In an agreement signed between Valcarcel and Development Minister JoseBlanco, the regional government revealed grants of up to €24,000 for homes which have been damaged, as well as help with rent.
Families whose homes have been completely destroyed will be eligible for grants of up to €106,000.