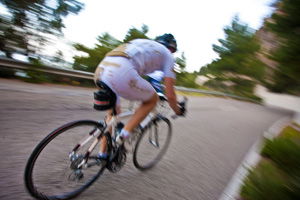 The story so far: 'Heart attack waiting to happen' Ben Miles, set himself the challenge of getting fit and cycling across Europe to raise money for the Allen Graham Charity for Kidz and the NSPCC. AFTER the high of the weekend's Parties in the Park and a super send-off in Sunderland, Ben came back down to earth with huge bump on Monday morning.
He had to say a difficult goodbye to his wife, his little boys, his mum and the rest of the family, knowing he wouldn't see any of them for three weeks. Then, while feeling down he had to do something few of us like even at the best of times – go to the dentist. No one who's seen Ben along his ride would have guessed that he's been struggling with agonising toothache throughout most of his challenge. The Mansfield dentist confirmed he has an abscess and an ulcer and prescribed antibiotics.
But there was little time to pause because it was onwards and upwards to Norway. In order to pick up the remaining 3,000km of the route in Gothenburg, Sweden, Ben and his brother Gary had some serious driving ahead of them. From their home in Nottinghamshire, they drove to Folkestone through the Eurotunnel to Calais.
There was a slight delay when Gary discovered he had his wife's car keys in his pocket forcing them to scour the town for a post office but they managed to send back the keys and even pick up a bottle of champagne to crack open at the end of the challenge!
Across in France, they drove for 26 hours straight until arriving in Gothenburg – but their journey wasn't over there. Like a modern-day nativity, there was no room at the inn for the pair as local elections in the city meant there wasn't an empty hotel room to be found. So after leaving Mansfield on Monday morning, they finally found a bed for the night in a town north of Gothenburg at on Tuesday evening.
Quite in contrast to the UK-leg of his ride, Ben's found Sweden a very lonely ride so far – he's really missing his wife and son and hasn't even seen any blonde, Swedish beauties yet!
So far the terrain has consisted of forests, mountains and lakes and although very beautiful the route has proven problematic as Ben's had to cover extra miles driving around mountains and avoiding muddy, sluggish ground.
But he has been lucky with the weather. Sweden's enjoying its hottest May on record with the temperature around 28°C and Ben's managed to avoid a couple of thunderstorms, arriving just in time to cycle through the puddles.
Wednesday (Day 32) saw him cover 230km, that's a whopping 143 miles in one day, and he's even speculating that he might arrive in Nordkapp ahead of schedule so perhaps he'll see his family sooner than he thinks, here's hoping! When Ben does get the chance he tries to log on to Facebook and Twitter so if you do have any messages of support, please do let him know that you're following his progress and everyone is rooting for him back home.
You can find out more about Ben and his amazing journey at www.bensmiles.com where you can also make a donation to the Allen Graham Charity for Kidz.