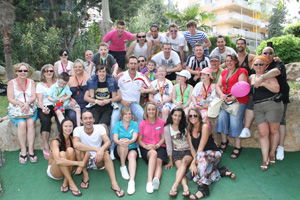 FOLLOWING the raffle ticket draw Globo Balear, the business behind Pirates Adventure announced this week that they have raised an amazing €52.678.73 for the Great Ormond Street Hospital for Children.
"We are extremely proud and grateful to all of the businesses and individuals who have supported this fantastic cause", said Richie Prior, the Sales Manager for Pirates.
Prize winners and ticket numbers are below.
| | | |
| --- | --- | --- |
| Prize | Donated By | Ticket No |
| 3 nights in Madrid with flights and hotel | World Services/Blue seas Holidays | 904 |
| Satellite system | GNTV | 1632 |
| I night stay at Reads | Reads | 1852 |
| 30 min helicopter flight | Sloane Helicopters | 1792 |
| 1 night for 2, a la carte dinner and water circuit in the Blue Spa | Mon Port Hotel & Spa | 1615 |
| VIP Table at Pacha with 1 bottle included | Pacha | 991 |
| Dinner for 2 at Flanigans | Flanigans | 1743 |
| 250€ Voucher at Le Pirat | Ralf of Le Pirat | 1788 |
| Tristan Bistro, Dinner for 2 | Tristan | 1688 |
| Golf in Pollensa for 2 and Lunch | Richard Barnard | 1526 |
| 2 Green fees | Real Golf Bendinat | 1061 |
| 2 tickets to Come Fly With Me | Globo Balear | 1252 |
| Family Ticket to Pirates | Globo Balear | 1050 |
| 1 weeks car hire | Avance | 1783 |
| 4 Tickets for Palma Aquarium | Palma Aquarium | 1786 |
| Wellies, Dinner for 2 | Wellies | 1373 |
| The Venue, Lunch for 2 | The Venue | 1427 |
| Rumours Bar, Bottle of French Champagne | Rumours Bar | 1841 |
| 4 SPA passes | Marriot Son Antem | 1654 |
| 2 Green fees | Marriot Son Antem | 1963 |
| Family ticket for Marineland | Aspro Group | 1752 |
| Family ticket for Western Park | Aspro Group | 1591 |
| Family ticket for Katmandu | House of Katmandu | 902 |
| Family Ticket for Golf Fantasia | Golf Fantasia | 1046 |
| Complete Ultrasound treatment | Silhouette Body,Beauty,Soul | 1622 |
| Family photo portrait | John Britz | 1692 |
| Dinner for 2 at Akbar | Akbar Restaurant | 1970 |
| Dinner for 2 at Portals Village Restaurant | Portals Village Restaurant | 509 |
| 25min Massage or Beauty Treatment | Denise Von Bergelen | 1557 |
| Tooth Whitening Treatment | Steve Blackledge | 824 |
| Lunch for 2 at French Coffee Shop | French Coffee Shop | 829 |
| Cut & Blow Dry | GOSH Hairdressers | 1938 |
| Body Massage | Bodhana Wellness | 1575 |
| Hyroderm Guinot Facial Treatment | Salon Denise | 836 |
| 1 50€ Hair Voucher | Salon HQ | 1165 |
| Dinner for 2 and bottle of house wine at the Blue Bar | Blue Bar | 1822 |
| Dinner for 2 at Diablito Portals | Diablito Portals | 1404 |
| 1hr Tennis Lesson | MallorcaTennis.com | 1650 |
| Dog Grooming (Wash & Blow Dry) | Mucky Paws | 1226 |
| Horse Riding for 4 people | Santa Ponsa Riding Club | 562 |
| Course of physiotherapy or treatment | Tracy Evans | 1147 |
| Dinner for 2 at Pacha | Pacha | 1066 |
| Gentlemens Gift Set | Tin Tin Perfumery | 1639 |
| Ladies Gift Set | Tin Tin Perfumery | 1282 |