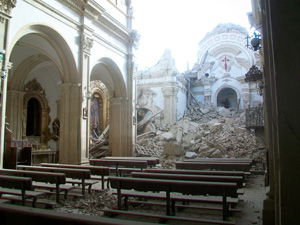 THE first earthquake documented in Spain occurred in 1048 and had its epicentre in Orihuela, Alicante. In September 1522, a 6.5 magnitude earthquake in the Alboran Sea totally destroyed Almeria City and Ugijar, Granada. Almeria city was destroyed once again by an earthquake in 1658.
In 1680, a 6.8 degree earthquake with its epicentre in Alora destroyed towns in the surrounding area and in Malaga City, only the cathedral was left standing.
It caused damage in Sevilla, Granada, Cordoba, Jaen, Madrid and other areas and even 550 kilometres away in Valladolid.
The earthquake of November 1755 in Lisbon affected many areas in Huelva.
Some 390 people died in Vega Baja, Alicante after a 6.6 degree earthquake in March 1829, and 2,000 homes in the surrounding areas were destroyed.
In 1884, 839 people were killed in Arenas del Rey after a 6.5 degree earthquake. The town was rebuilt thanks to donations from all over Spain with the help of King Alfonso XII, which is how it got the name 'del Rey'.
In 1954 and 1969, there were two earthquakes measuring more than seven degrees on the Richter scale affecting Granada in the first, and Western Andalucia and the south of Portugal.
August 2003 saw an earthquake of 5.8 in Petrer, Alicante, two people died due to landslides.
Picture Credit: antonio periago