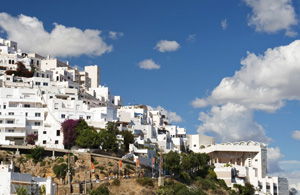 THE monthly meeting of ACEM (Mojacar's Business Association) was held at Shea Fox's La Parata restaurant on Tuesday 10th May, himself a member of the association. These monthly meetings are held at different member's premises each time. On the agenda were discussions on the new website, Tour operators, the annual Ruta De Tapas tour and The Walt Disney statue which is due to be erected in the pueblo.
It was nice to see ACEM member Diego Garcia, Mayoral candidate for Union Mojaquera in attendance. Anyone would think there was an election looming.
The new website is almost up and running and will be a useful tool in the expansion and growth of Acem. It will give visitors an insight into how the association operates as well as offering an on-line application form. All businesses in Mojacar should join. For an annual fee of €72 you get help on a local level with all forms of legal expertise for problems with the town hall you may be experiencing and as ACEM are a member of the larger group ACELA you also get a route to regional and national government for any incentives that they may be offering to promote areas and businesses. Contact Karin Schroter today on 950 478 935.
The Mojacar Tapas trail is going ahead for most of July. The consensus of opinion was to have it completed by around the 25th so as to give time for the bars and restaurants taking part to get ready for the August rush. Establishment owners interested in taking part please call Karin on the number above as soon as possible as once the 'passports' have been printed you will not be able to get on the list. Last year's inaugural event was a huge success although 10 days was not long enough.
The Walt Disney bronze that is going to be erected in the village with the plaque 'Was he born here' is coming along nicely. ACEM are currently looking for sponsors whose names will appear on the plinth. Cost of this is a minimum of €500 as so far confirmed are Spectrum FM, Neptuno Beach Club, Currencies Direct, VIP Almeria, Aku Aku, El Patio, amongst others. This will be a great tourist attraction for the area with lots of publicity given. Have you had your photo taken with Waly Disney? springs to mind. More sponsors are required and details will be given by Karin if you are interested.
Looking forward to seeing more Mojacar business owners at the next one which will be publicised here in the EWN, on Spectrum FM and on facebook at Spectrum Almeria.
By Richard Shanley