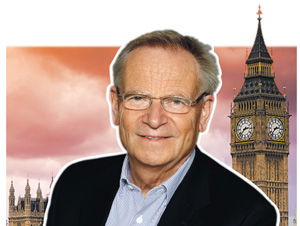 Best selling British author Jeffrey Archer publishes his latest novel 'Only Time Will Tell' this week, the first of a five-part family saga 'The Clifton Chronicles', Mike Walsh and Alfredo Bloy report. WHEN asked if he preferred to be addressed as Lord Archer or Mr Archer, he insisted we call him 'Jeffrey'. Archer wrote his new novel 'Only Time Will Tell' at his home in Mallorca. "I love Spain," he said. The novel is the story of a young man called Harry Clifton who was born in the back streets of Bristol to a docker's family and it is assumed that he, too, will become a docker.
"But at the age of seven he discovers he has an amazing talent which changes his whole life," Archer said.
The first novel takes Harry from birth through to winning a place at Oxford, but,when war breaks out, he has to decide whether he will go to war or continue with his degree. The five-part 'Clifton Chronicles' will span 100 years between 1920 and 2020, a whole century of Harry Clifton's life; the people he meets and the influence they have over his life and the changes that happen in his century.
"If you think of 'Kane and Abel' as a family saga, this is an even bigger one," he remarked. Like most of his contemporaries, Archer carries out extensive research for his work, and this time was no exception.
"Between 1920 and 1940, which was before I was born, I needed to look into what happened in my country in those days; and what was happening all over the world at the time, in order to make the person reading the book feel like they are in the 1920s," he said.
"I had to make sure that the speech was right, the action was right, the buildings and the light felt like the 1920s. And, of course, we are going up to the war with all the problems Briton faced, say in 1935 to 40, and that had to be accurate.
"You cannot make mistakes on that because there will be people who write to say 'no, Chamberlain did not declare war on September 15 at 3.30, he declared it on September 14 at7.30'.
You have got to have all your facts absolutely right," Archer stressed. The many EWN readers who are pensioners,'will be reminded of what Britain was like', he assured. As often happens, you find an author of riveting books has led a life as interesting as his characters.
No one can be other than impressedby Archer's colourful life and abilities as a story weaver. "I tell a story; I try to make you turn the page and that is what I like to do," he said.
One of England's larger-than-life characters, the Daily Telegraph and Daily Mail respectively suggest a Nobel Prize for story telling; the'greatest storyteller of our age', says the latter. So far, Archer's book sales exceed 250 million copies.
Born on April 15, 1940, he was an amazing athlete who ran for England and Britain; and later on for Parliament, but more of that later. As a schoolteacher, he was inspiring, though, surprisingly, only attained O-level grade in English Literature.
His work as a charity fundraiser brought him to politics. He served as Conservative Councillor on London City Council from 1967 to 1970. A vibrant, likeable 'rogue', Archer combined charitable works with questionable tactics and lifestyle.
His first novel, 'Not a Penny More, Not a Penny Less' (1976) was published in the US. An instant success, it staved off bankruptcy following a bad investment. The blockbuster 'Kane and Abel' was followed by 'First among Equals'.
"If you liked 'Kane and Abel', you will like 'Only Time Will Tell'," Archer said.
All told, he has published 14 novels, six sets of short stories, three plays, three children's books, a gospel, and three volumes of prison diaries. His books have been published in 97 countries in 33 languages.
At 29, he was elected Member of Parliament for Louth in Lincolnshire.
Although a Tory, he was on the left and voted for free TV licences for the retired, and an end to capital punishment. A bon vivant and raconteur, he became Conservative Party Deputy Chairman under Margaret Thatcher. He resigned in 1986 when the News of the World revealed his dalliance with vice girl Monica Coghlan.
He took the Daily Star, which had expounded the story, to court and won £500,000 in damages. The case marked his exit from politics but he was, however, made a peer in 1992 largely on account of his charitable work.
Described as a superhero, Archer has his critics but, for many, he is a swashbuckler who has so far spent five years in Parliament, 18years in the House of Lords, and two years in Her Majesty's Prisons.
Some would say, 'not a lot of difference'; others might say, 'the archetypical Englishman; adventurer, likeable rogue and man of letters. The world would be a poorer place without them'.