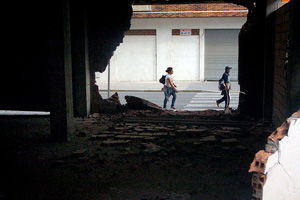 The two earthquakes that rocked the town of Lorca in Murcia, Southern Spain on Wednesday has left much of the town buildings structurally unsafe. Conflicting reports have been emerging since the quake happened as to the real extent of the damage with reported figures fluctuating wildly.
President of the regional government, Ramón Luis Valcárcel, claimed that 80 per cent of homes were affected and structurally unsafe. Hours later, the Mayor of Lorca, Francisco Jodar, claimed that 90 per cent of households had no structural damage whatsoever.
The most reliable data to date was reported by the Minister of Public Works and Planning, José Ballesta.
A special marking scheme had been implemented on the buildings that had been properly surveyed and were marked in red, yellow, or green.
Green coded markings determine that the building is structurally sound and inhabitants are allowed to return, the yellow code allows people to return to the building to collect belongings only and then vacate again and red coded markings show that a building is unsafe and no entry is permitted.
Of 40 per cent of the buildings evaluated, 542 in total, 44 per cent were marked with a green code, 39 per cent were marked yellow, while 17 per cent were marked as red.
Picture Credit: Globovisión