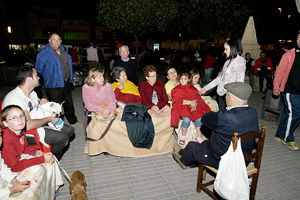 Whenever disaster occurs and the needs of people affected by the disaster need addressing Lions Clubs throughout the world are first to respond. Torrevieja Costa Lions have in recent years offered support via Lions Clubs International to the people of Haiti, New Zealand, Pakistan and more recently Japan, in the knowledge that every single euro donated goes directly to the Lions in the respective areas of the World and all the funds are directed to try to rebuild the lives and infrastructure in these areas.
With the recent earthquake much closer to home in the Historic Spanish town of Lorca the Torrevieja Costa Lions responded immediately by pledging 1,000.00 euros from their Emergencies Fund with more to follow from fund raising events.
In the coming weeks and months Lions will be assisting the people of Lorca to return to some form of normality, and everyone can help by offering donations and by supporting the Lions you can help the Lions to help others in their hour of need.
Anyone wishing to make a contribution can do so immediately by making a pledge online by visiting www.torreviejacostalions.org and submit an e mail, with your contact details, alternatively you can call Lions Diane and Steve Walsh on 966 714 458 to offer your support.
The people of the Costa Blanca have the opportunity to "make a difference" please help your Local Lions help the people of Lorca.
Picture Credit: Globovisión