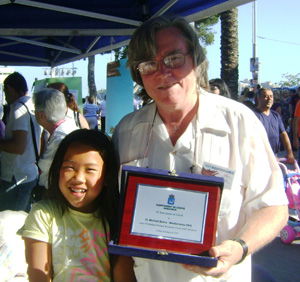 Thousands of people gathered on a very sunny Palma Nova beach front to celebrate Europe Day. Alongside the stalls and live entertainment which kept visitors busy from to that day, there was also the presentation of the European Citizen of the Year Award which went to Dr Michael Stoma for his work with Mediterranea.
Mediterranea supports children in Africa and Central America, distributes medical supplies across the world, and is now also supporting homeless and unemployed people in Mallorca.
Dr Stoma, who is based in Portals, spoke about the work that the organisation does, and what it needs in order to keep helping people.
"We need food for the people we feed in Mallorca, we need someone with a farm and who has vegetables or fruit that they do not want that we can go and collect to hand out to those in need. We need people to become members of our organisation.
For as little as €10 a month one can make a difference and one can become involved if one is so inclined.
The people in the organisation are very special people who share a desire to make the world a better place and like to get up and do something about it.
The age range of our volunteers goes from 9 to over 95. I must say I am very proud of them all. One can be a doer or a complainer, these are doers."
For more information visit www.mediterraneango.org
By Vicki McLeod
Picture Credit: Laura Penn