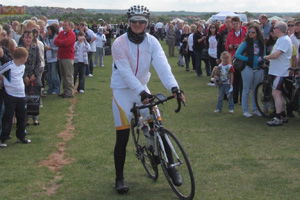 BEN has now completed the UK leg of his incredible challenge and Sunday saw him sent off from Sunderland in the north east of England to a huge crowd of well-wishers. People of all ages took part in a range of activities including zumba, salsa and 'boot camp' exercises, as well as visiting stalls, playing games, enjoying refreshments and much more.
Ben and his mum Margaret Whittaker OBE (owner of Mood Beach in Costa D'en Blanes) were bowled over by the huge turnout and the warm welcome they received in each of the five venues in England – from the first stop that Ben made in Oxford, through to Peterborough, Derby, York and finally Sunderland.
Margaret led hundreds of people at each event on a sponsored mile as part of the fundraiser. Walkers, runners and cyclists, as well as three-legged racers, a group on space hoppers and even a pirate all joined in to raise money for the NSPCC and the Allen Graham Charity 4 Kids in Mallorca.
Meanwhile Ben and his sister Claire were wowed by the 40 inspirational people who cycled 25km and 50km routes around each of the venues with them as 'ride buddies'. They've extended a massive thank you for all their hard training and dedication, especially to those who helped plan and mark the routes.
Ben may now have completed the UK leg of his six-week cycling challenge, but it's far from over yet. After leaving Sunderland he's just halfway along the 6,000km route and he's now pedalling up through Scandinavia. He's a little bit afraid as he heads into unknown territory in this final 3,000km but absolutely determined that nothing will deter him from reaching the end of his challenge so please keep up the support, keep following his progress, keep sending him messages on facebook at www.facebook.com/benSMilesuk or follow him on at www.twitter.com/bensmiles and keep encouraging everyone you know to donate – it's all in a great cause!