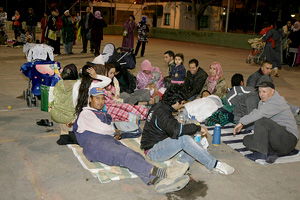 Around 20,000 Lorca residents spent the night outdoors in fear of aftershocks after the fatal earthquake that struck late yesterday afternoon. The epicenter was in the area known as La Hoya, between 5 and 10 kilometers from Lorca town centre and there are reports the shock was felt in Albacete, Almeria and as far away as Madrid.
According to the regional government of Murcia, two pregnant women are among the dead as is a 14-year-old boy. All the victims of the quake have been confirmed as Spanish.
A further 167 people were injured, three of them critically, according to Murcia Health Services.
Shelters were set up by the Spanish Red Cross where around 700 people took refuge.
According to reports by Spanish news agency EFE, most of the 20,000 homes in Lorca have suffered some form of structural damage. Dramatic footage was captured on Spanish TV of a church tower crashing down into the street just metres from the cameraman.
There have been reports of between 23 and 29 aftershocks having been recorded, one measuring 4 on the richter scale was recorded at 10.37pm, according to the National Geological Institute.
According to the USGS (United States Geological Survey) the earthquake occurred within the plate boundary region that separates the Eurasia and Africa (Nubia) plates. The epicenter was situated near a major fault called the Alhama de Murcia, however, significant field work will be necessary to confidently determine if the earthquake occurred on a segment of that fault or one close by.
The cofrentes nuclear power station, located 200 kilometres from Lorca was not affected and continues to function normally, according EFE.
Are you in the area, did you feel the shocks or witness the earthquake?
Send your pictures and comments to [email protected]
Picture Credits: Globovisión
LATEST NEWS: Lorca death toll rises to 9