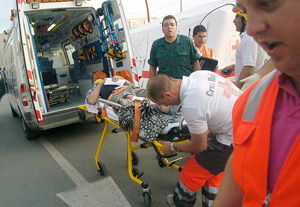 The Lorca earthquake has claimed another victim today bringing the official death toll up to nine. A 41-year-old woman who suffered critical head injuries in the quake passed away around midday at the Virgen de la Arrixcia Hospital in Murcia.
Minister for Health, Maria Angeles Palacios, told a news conference that amongst the remaning critically injured admitted to the hospital last night is a 3-year-old boy and two women aged 36 and 73, their conditions have improved somewhat and the child has been moved out of the intensive care unit.
She went on to thank the emergency services and the help received from neighbouring communities.
Picture Credit: Globovisión