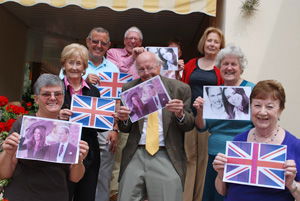 Celebrations for the Royal Wedding started early in Puerto Pollensa. At Hardley's Diner festivities started with a "Wedding Breakfast". There were TV screens inside and outside, so that people could watch the ceremony, and the younger people were treated to the delights of a bouncy castle.
A little further along the sea-front at Can Balache, people had adopted a red, white and blue theme for their clothes, and were really involved with watching the wedding ceremony.
There seemed to be a lot of private parties in the Port, with people watching the wedding before going out to celebrate further later in the day.
One of these parties was held by Kate Brooker, the Musical Director of The Music Makers.
By H. Mullen