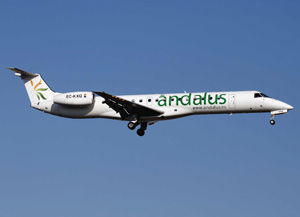 ALMERIA Airport, via the Spanish Airport Authorities, AENA, have seized the €5,000 deposit from the contract signed with airline company Andalus S.A. in August 2009. The airport has tried without success to contact the company of the decision, but no-one has wanted to sign for the letter taken to their registered address.
The contract has now been cancelled, although the case remains in court.
The Regional Health Department brought disciplinary proceedings against Andalus SA in February, after complaints from several clients who booked flights with the company.
The proposal for a fine of €15,000 was published in the Official Junta de Andalucia Bulletin for February 15, after it proved impossible to directly notify the company of the action planned against them for breaking general consumer rights laws.
The company was launched in 2008 and had its headquarters in Malaga, beginning to operate in January 2009.
In December it announced that it ended its first year with an average 70 per cent occupation on routes from Malaga, Sevilla and Almeria.
The airline was partly financed by the Junta de Andalucia.
The fund provided €40,000 and then two loans of €410,000 and €700,000, the latter in July 2010 when one of the company's planes was embargoed and kept in a hangar at Almeria Airport.
In April 2010, a Malaga judge ordered that an aircraft belonging to Andalus Airlines be grounded for failing to pay its rental, causing flights to Madrid and Barcelona to be cancelled or delayed.
Andalus had already cancelled flights from Gibraltar to Madrid and Barcelona, alleging technical problems.
It then came to light that the company was insolvent and the PSOE socialist managing to secure another loan for €937,000 with Caja Granada with the guarantee of €750,000 from the Andalucia Innovation and Development Fund.
If the company did declare bankruptcy, then the Junta would have to pay that money.
Not only did the Junta spend more than €2.3m in the company but also promoted the Andalucian Tourism Board on the planes with a campaign costing €116,000.
The airline had been criticized for constant delays, failing to pay its workers and fuel providers and not paying for its advertising campaigns.