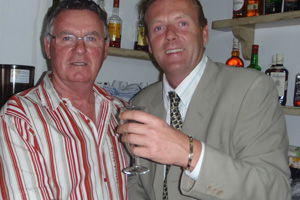 It is officially the end of an era. After pulling his first pint in Badgers Bar on December 18, 1987 Keith Bradley has retired. Will the 'Brit Strip' by The Hotel Indalo on Mojacar playa ever be the same? Badgers Bar will continue to serve great food and drinks but with Keith's son Lewis at the helm who arrived back in Spain this week after a stint working in the UK.
Keith and Gill Bradley moved over to Spain after Keith's first retirement from the game of football having had stints as a player and a coach at both Aston Villa and Birmingham City. Keith had the vision and foresight (unusual for a footballer) to move his family over to the sleepy town of Mojacar and Badgers Bar was born.
Things were a lot different then. Apart from Badgers and The Winking Frog there was not a lot else (Brit wise) on the playa and Mojacar in those days really was a one horse town. I fondly remember Karaoke nights in Badgers during the late 80's with Keith running the show in his own inimitable style.
Keith has always been very interested in the community and set up Badgers Golf Society some nine years ago which is still running and in its heyday had over 250 members, including me. In recent years he has become heavily involved with politics and is a main spokesman and advocate for the Mojacar Positiva Se Mueve Party which one of the parties contesting the local elections on Mojacar later this month.
Enjoy your retirement Keith and play some more golf. You will be sorely missed at Badgers Bar.
By Richard Shanley