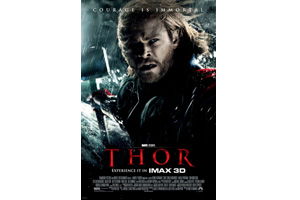 A god fallen from Heaven becomes a hero on Earth. – THE epic adventure Thor spans the Marvel Universe from present day Earth to the cosmic realm of Asgard. At the centre of the story is The Mighty Thor, a powerful but arrogant warrior whose reckless actions reignite an ancient war. As a result, Thor is banished to Earth where he is forced to live among humans.
When the most dangerous villain of his world sends its darkest forces to invade Earth, Thor learns what it takes to be a true hero.
Marvel Studios have had a lot of success at the box office lately, and Thor, for many reasons, is going to be another one.
The adventures of the god of thunder are directed by Kenneth Branagh, which is quite a step away from Shakespeare, but in some way shares many similarities with his Frankenstein.
The film had a huge budget, and includes actors such as Natalie Portman and Anthony Hopkins, whose talents are certainly not wasted, as this fast-paced film production is sure not to disappoint Marvel fans and will attract interest of those who are not.
Branagh gives the film depth and a plot which although predictable, works well and keeps its pace throughout the whole two hours. Surprisingly enough, there is even a quite Shakesperian feel to the whole thing.
Although it is quite serious in parts, it is also well-balanced with some comical moments which give it a twist without becoming silly.
Visually it is spectacular, although paying for the 3D version could prove a little disappointment, but even so, this is an entertaining and surprisingly good film.
Film review by Gabrielle Devon