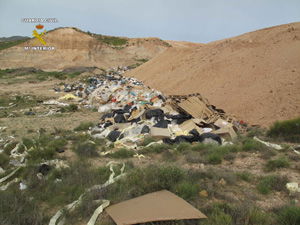 OFFICERS from the Guardia Civil Nature Protection Branch (SEPRONA) found an illegal rubbish dump in Nijar. During a routine inspection of an area known as Paraje Cilabrar, they saw that land was being levelled with heavy machinery to build a greenhouse, but also noticed that a large amount of rubbish was being hidden under the earth, including garden refuse, plastic, cardboard, boxes and bottles.
The rubbish should have been taken to an authorized plant by the company which removed it from agricultural companies in the area, charging them for this service.
The company was told to clean the area and correctly manage the waste, but ignored this request, leading to a report being made against them for serious violation of environmental laws.