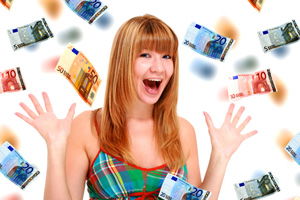 I HAD some amazing news this week. I won €1,000,000 in the Facebook lottery. That's right, one MILLION euros, just for having a Facebook account. Only eight lucky winners were chosen from over 500 million accounts, and I'm one of them. So, goodbye day job! I quit! I'm retiring to a luxurious villa somewhere hot to sip margaritas by the pool for the rest of my days (or at least until the money runs out).
Or am I?
Let's face it, life just isn't THAT good. Facebook hasn't reached global domination and massive profits by giving away millions of pounds on a whim. It's just never going to happen.
It's a scam and thousands of people every year lose hundreds of thousands of euros believing that their ship is about to come in.
How the scam works
Typically, the victim will receive an email purporting to come from a major multinational Company. I've seen examples that claim to come from Microsoft,
Samsung, Nokia, Sony, and most recently, Facebook. Regardless of which household name is being hijacked by the scammer, the story is the same.
The victim has won a huge amount of money in a lottery and needs to contact a 'claims agent' to get their hands on their prize.
Upon contacting the claims agent (who will work hard to maintain the victim's level of excitement), the victim will be convinced that it's necessary for them to send money to receive their prize. It may be a small amount (around €20 or so is common) or if the scammer's feeling particularly confident that they've hooked a 'big fish' with plenty of money, he may go for a larger payout (and losses of several thousand have been reported).
Predictably, once the fees have been paid, the victim never receives a penny in return.
How to protect yourself
There are two things to remember:
1) If you don't buy a lottery ticket or enter a competition, you're not going to win one. Ever.
2) If you do win a lottery or other prize draw, you should never pay to receive a prize.
Lottery scammers don't just use email either. You're just as likely to receive a "prize notification" through the post, or over the telephone. However they approach you, the scam is the same.
Maintain a healthy level of caution and if you're in any doubt at all then contact the Company that is supposedly running the competition, by calling a number listed on their official website. If it's genuine, they'll soon let you know, but I'd be willing to lay my Facebook lottery winnings on it being a scam.
Charles Conway is the editor of scam awareness website Scam Detectives, and the author of Scammers, Spammers & Social Engineers: A Scam Detectives guide to keeping your business safe online.
For more advice about how you can keep yourself, your family and your business safe online, visit www.scam-detectives.co.uk