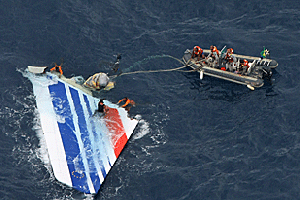 BOTH of the black boxes from the ill-fated Air France flight which went down over the Atlantic in June 2009 have been found on the seabed. They were raised 3,900 metres to the surface and brought on board a search vessel. Investigators hope they will help to determine what caused the crash of Flight 447 from Rio de Janeiro to Paris.
However, they won't know for several more days whether the memories have withstood the impact and the effects of exposure to corrosive salt water under high pressure for almost two years.
The second black box to be found, just this week, is the one which records verbal exchanges in the cockpit.
In early April, large parts of the fuselage, the engines and even identifiable bodies, still strapped into their seats, were found nearly four kilometres down in an area known as the mid-ocean ridge, preserved by the freezing temperatures.
The search is being paid for by Air France and Airbus, who have invested some €20m.
Both companies have been charged with the involuntary manslaughter of the 216 passengers and 12 crew members on board.
Picture Credit: seeker401.wordpress.com