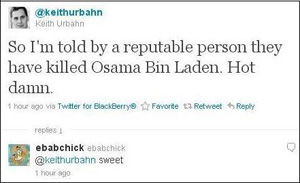 The historic news of Osama Bin Laden's death was revealed first on Twitter by Keith Urbahn, the former chief of staff for Donald Rumsfeld, George W. Bush's defence secretary. In a posting at on Sunday evening ( BST Monday morning), Urbahn wrote: "So I'm told by a reputable person they have killed Osama Bin Laden."
The Guardian reported that Urbahn's "reputable person" could have been Rumsfield himself, who may have been told the news by former US president Bush, who in turn was called by president Barack Obama ahead of the public announcement.
Urbahn, a former navy intelligence officer, later added: "Don't know if it's true, but let's pray it is." After the announcement leaked on Twitter, various sources within the White House confirmed the news, according to The New York Times.
President Obama officially announced Bin Laden's death at around Twitter said that more than 4,000 tweets per second were sent at the start and end of his speech. Reacting to the news on the microblogging site, US senator Jim DeMint wrote: "Bin Laden's death is a great victory in the War on Terror & confirmation to freedom's enemies about the inevitable end of a life of terror."
Fellow US senator Claire McCaskill added: "A very bad chapter of world history closes tonight. Finally. Justice. Thank you to all of our intelligence personnel and our military."
By Richard Shanley