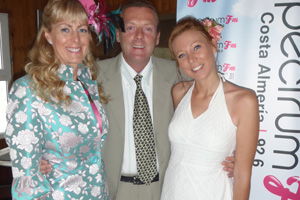 Expats and Spaniards alike love a Royal Wedding and last weeks' between Prince William and Kate Middleton was no exception. After presenting the 'Royal Wedding Show' with Helen B on Spectrum 92.6 and 104.4FM from until midday we then all went on a tour of local bars and restaurants that were doing something special for the day.
It was lovely to see people dressed up and really making an effort even though we were only watching it in TV. It was a great advert for High Definition television (Westminster Abbey and its congregation looked stunning) and our studio and offices were full of people wanting to catch a first glimpse of the dress.
Pretty as both she and the dress were, in my humble opinion Kate's sister Pippa stole the show and she must have caught the eye of Prince Harry.
Another Royal Wedding perhaps?
By Richard Shanley