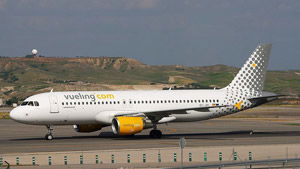 PASSENGERS on a flight from Paris to Ciudad Real plan to sue Spanish airline Vueling after their flight was diverted with no prior warning. The flight was due to leave Charles de Gaulle Airport at 7.10pm last Saturday, but it was delayed 30 minutes. Halfway through the flight, the passengers were told they would be landing in Barcelona, as Ciudad Real airport, which only operates 16 hours per day, had closed.
Passengers believe the flight could have landed in Ciudad Real, but would then have been unable to carry out its next scheduled flight to Barcelona, so the company decided to go straight there. The 100 passengers refused to get off the plane when they arrived in Barcelona, as they weren't offered any compensation or a hotel for the night, and the Guardia Civil have to be called in.
Vueling explained that time was made up during the flight, despite the late take-off, and that the plane would have only needed ten minutes to land in Ciudad Real, and then continue to Barcelona. They claim this delay was requested, but the AENA air traffic controller refused to wait, which is why they had to fly to Barcelona.
At 2am the following morning, the passengers were taken by plane to Madrid and arrived in Ciudad Real by bus at around 6.30am, nine hours late.
A further 100 people who were left stranded in Ciudad Real without a flight were taken by bus to Madrid and then flown to Barcelona.