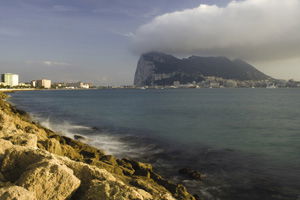 A SPANISH officer was injured during an 'encounter' between the Guardia Civil and the Gibraltar authorities close to the Rock. The Guardia Civil were intercepted in Gibraltar waters while chasing a boat which was allegedly carrying drugs from Morocco. The drug smugglers were stopped 3.7 kilometres off the coast of Gibraltar, after they had thrown packages of drugs overboard during the chase, which began 10.8 kilometres from Europa Point.
Seven boats, from the Customs Office, the Royal Navy and Gibraltar Police then approached, and according to the Guardia Civil, threatened and insulted them and told them to release the smugglers to them because they had been captured in Gibraltar waters.
They are also said to have deliberately knocked into the Guardia Civil boats, causing damages, and leading to one of the officers sustaining injuries to his arm.
The 'assault' continued until the Guardia Civil left the area and took the two detainees with them, as well as their boat and 100 kilos of hashish.
The Unified Guardia Civil Association is calling for the case to be pursued in court and for those responsible to be punished.
"The (British) Royal Navy and RGP acted like pirates as in other times in the past," said a statement from the police organisation.