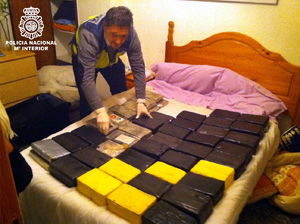 THE economic crisis affecting many aspects of Spanish life has spread to drug-taking, with a drop in arrests made last year and fewer drugs seized. Ecstasy and amphetamines were the only exceptions, with police seizing twice as much as in 2010 although there had been little change in intercepted cocaine while the amounts of seized heroin had fallen, said Spain's Centre of Intelligence against Organised Crime (CICO).
Police anti-drugs operations averaging 1000 per month were 7 per cent fewer than last year, found the CICO after coordinating information from the National Police, Guardia Civil and Customs and Excise agents in all Spanish regions bar Cataluña and the Basque region.
The 17,878 arrests made in 2010 – around 49 a day – were the lowest in four years, with more people detained for offences connected with hashish or its derivatives than any other drug.
The 384,315 kilos of hashish impounded last year was 14 per cent lower than in 2009, continuing the steady reduction after 682,672 kilos were seized in 2008.
Sixty per cent was recovered in Cadiz, Malaga and Almeria, principal entry points for North African shipments.
Police also seized 25,241 kilos of cocaine, compared with 25,349 kilos in 2009, with Madrid – particularly Barajas airport – Valencia and Cadiz providing the largest hauls.
There was also a drop in heroin, with 233 kilos impounded last year compared to 300 in 2009.
There was a substantial increase in the amount of confiscated ecstasy which escalated from 404,334 tablets in 2009 to 634,628 in 2010.
'Speed' however, soared from the 148 kilos intercepted in 2009 to 282 last year while amphetamines shot up from 96,972 doses to 320,390.