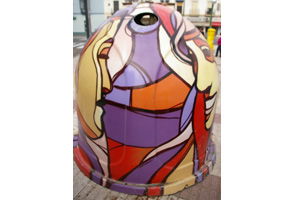 A FEW weeks ago I wrote a tongue in cheek piece about the high rise sleeping policeman in the Arroyo Aceituno in Arboleas. Coincidentally just before the elections, tax payers money has been used to remove the humps completely. Once again the hordes of Los Carrascos and Los Torres boy racers can burn rubber.
Also on the Arroyo Aceituno road is the infamous and dangerous corner near Los Torres, five years ago I rented a house overlooking it and having no telly was not a problem as most weekend evenings inebriated drivers would provide entertainment instead. Cars and bikes would drop over the side seemingly in slow motion only to be winched out the next day; luckily no-one was ever hurt. The council never did put up a crash barrier but the offending electric pylon that prevented the corner being improved has now been replaced so the road can finally be made safer.
The word iconic normally brings up visions of say the Eiffel Tower the iconic symbol of Paris; the Sydney Harbour Bridge another iconic symbol and Tower Bridge the iconic symbol of London. Well we can all breathe easy as I have officially found the iconic symbol of Spain; the empty blue or red fag packets that are iconically thrown onto roadsides by passing car drivers. The other day I saw half a dozen in just one morning, such an iconic symbol of how the countryside is treated in such contempt by some ignorant people. I expect the rusty beer-can will also be given iconic status.
Still on the subject of rubbish but without putting my eco warrior hat too firmly on my head I want to remind readers that recycling is easy to do and there are collection points in every town and village.
Yellow bins are for plastic and cans, green ones for bottles and blue ones for paper and cardboard. The powers that be keep us on our toes though as the three different bins are rarely all in the same place.
The new supermarket in Zurgena separates all its cardboard for recycling and the other day I saw it all being dumped into what I thought was a regular dump truck. The operator however proudly showed me the sign of the front of his lorry which declared that they were collecting paper and card to recycle so 'phew' panic over!
Out and about at the weekend there was a taste of things to come as bars and restaurants were filed with chattering foreigners on Easter holidays.
Soon all will be relatively quiet again before the storm of the summer season roars in. Anyone with a hankering for a beach visit is well advised to pop down soon before the hordes arrive again.
Paella shared in a beach chiringuito is a scrummy early summer treat.
In my childhood a big weekend treat was being taken to jumble sales and school bazaars, my book collection started with these visits and also my love for board games as discarded children toys always featured strongly.
The best find of all would be the cardboard box crammed full of old comics. No doubt a mean and nasty parent cleared them from the bedroom of an unsuspecting child as they were at school. Their loss was my gain and Beanos and Dandys bought for pennies made for a fun afternoons reading. I mention this as a few weeks ago I discovered the joys of the Mojacar Sunday Rastro; vintage clothes, books, toys, cds, and of course dodgy old shoes and dubious quality mobile phone chargers. There are rastros all over the place with a monthly one in Bedar too.
The home-made fare is normally excellent and recently a late breakfast consisted of Sarahs' Scotch egg, a vegetable samosa and later a dollop of yummy home made plum jam.