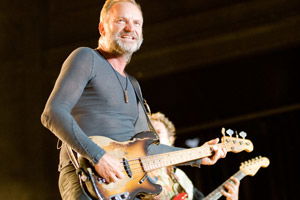 BRITISH musician Sting will perform at Granada Bullring on July 15 as part of his Symphonicity Tour. He will be joined by the City of Granada Orchestra for this concert in which he gives a classical twist to some of his most popular songs. Tickets will be on sale from April 29, costing between €35 and €110, and can be purchased from TicketMaster, El Corte Ingles and Rural Tickets.
Sting is not the only world renowned artist to be visiting Spain this year, Shakira is in Barcelona on May 29, Valencia on May 30, Almeria on June 1, Madrid on June 3 and Bilbao on June 4;
Bon Jovi will be in concert in Barcelona and San Sebastian on July 27 and 29;
Luis Miguel is due in Caceres on September 25; Roxette will be in Madrid and Barcelona on November 18 and 19, and Rihanna will perform in Barcelona and Madrid on December 14 and 15.
Kylie Minogue already performed in Barcelona earlier this year.