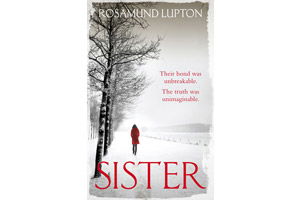 Sister, by, Rosamund Lupton begins when Beatrice, now living in New York, receives a call from her mother: Tess the younger sister is missing. Beatrice flies to London immediately and after a few days the body is found. Days after giving birth to a stillborn child, Tess has, it appears committed suicide.
But Beatrice refuses to accept this and pursues her own investigations, whilst living in Tess's chaotic flat. Beatrice proposes various theories to the police. She suspects the father of the child, Tess's married lover and a fellow art student who is obsessed with Tess. The police brand Beatrice as a nuisance and discard her ideas as those of an unbalanced mind.
They also choose to ignore the medical trial that Tess has joined to ensure that her baby is not born with cystic fibrosis. The tense and surprising dénouement finds Beatrice confronting the killer in dangerous circumstances.
This is Lupton's first novel and it has risen rapidly and deservedly to the top of the paperback bestseller list. The reader is led through the process of grieving after sudden bereavement in a powerful and realistic way.
Beatrice inwardly questions how well she really knew her beloved younger sister, whilst maintaining to others that only she really understood Tess and so is convinced beyond all possible doubt that in no circumstances could Tess have taken her own life. This psychological suspense thriller heralds a major new talent.
Book review by Meg McKenna
For further information contact [email protected]