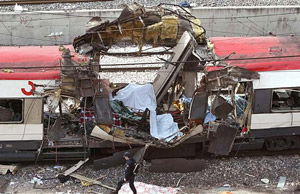 Terrorism continues to pose a high threat to the security of the EU and its citizens and has become more diverse in its methods and impact. That is the conclusion of Europol's annual review of terrorism, presented today in the European Parliament by the agency's Director, Rob Wainwright.
Europol's EU Terrorism Situation and Trend Report (TE-SAT) records a total of 249 terrorist attacks in the EU in 2010, in which seven people died and scores of others were injured. Most of these were related to violent separatist, nationalist, or anarchist activities. Three attacks were attributed to Islamist terrorist groups, of which two were aimed at causing mass casualties.
In addition an attempted attack, claimed by Al-Qaeda in the Arabian Peninsula (AQAP) in November 2010 had the capacity to cause serious damage and possible loss of life for a large number of EU citizens. A package containing explosive devices was sent by airfreight from Yemen to the US and was intercepted in the UK. Another one was intercepted in Dubai.
In overall terms the number of attacks in the EU represents a decrease on the figure for 2009, due largely to a significant decrease in the number of attacks attributed to ETA.
In 2010 611 individuals were arrested for terrorist-related offences, of which 179 were linked to Islamist terrorism, representing a 50% increase on the previous year. Meanwhile Islamist terrorist groups issued 46 threat statements to interests in the EU, which also represents an increase on 2009.
Terrorist groups are becoming more diverse and flexible in their methods of operating, with signs of increased collaboration between groups, increased use of the Internet, and a growing connection between organised crime and terrorism, especially in regard to financing activities.
Separatist terrorist groups such as the PKK/KONGRA-GEL and LTTE are involved in the trafficking of drugs and human beings to raise funds for their terrorism activities. Meanwhile reported contacts between international drug trafficking groups and Islamist terrorist groups in West Africa raise the possibility that proceeds from organised crime are a source of funding for Islamist terrorist groups operating in the Sahel region.
The rapidly developing situation of instability in North Africa is also a source of concern to the internal security of the EU, with new opportunities emerging for terrorist groups to move materiel and members to Europe.
"The economic recession has led to political and social tensions in a number of Member States and fuelled the conditions for terrorism and extremism. Although the number of attacks executed by separatist terrorist groups has decreased the threat from these and other groups remains substantial.
"I am pleased that law enforcement authorities have been successful in preventing the execution of various attacks, including attacks by Islamist terrorist groups, which aimed to cause mass casualties," says Rob Wainwright, Director of Europol.
Source: Europol