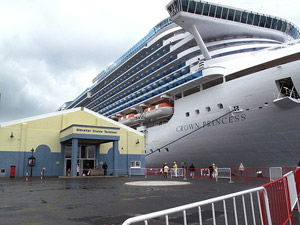 THE Government of Gibraltar announced that cruise ships will be allowed to open their on-board casinos and shops to their passengers after , providing an incentive to remain alongside until the early hours of the following morning. This policy decision should encourage cruise ships to extend their calls at Gibraltar by staying later in the evenings.
Until now, ships have usually sailed at around 5 or in order to reach international waters and be able to open their revenue-earning onboard outlets for their passengers, even if their next port of call was close by.
The relevant legislation is now being drafted in order to allow for this initiative to become law.
Deputy Chief Minister, the Hon Joe Holliday, said: "It is a win-win situation for everybody. The cruise operators can offer more tours to their passengers, offer more time ashore to their off-duty crews and importantly save fuel which is their top priority at present, while Gibraltar will benefit from having ships extend their stay into the evening."
Picture Credit: Archangeli