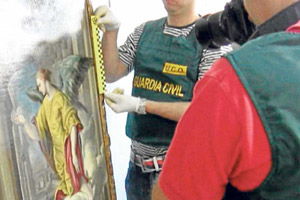 SPANISH authorities have recovered old two paintings in Alicante reported missing 14 years ago, the Interior Ministry said. The paintings, 'La Anunciacion'(1570) by Doménikos Theotokópoulos (El Greco) and 'La Aparicion de la Virgen del Pilar' (1775) by Goya are thought to belong to the estate of Catalan businessman Julio Muñoz Ramonet.
If confirmed to be authentic they will be claimed by Barcelona City Hall to whom the paintings were donated after death of the businessman in Switzerland in 1991 together with his art collection and several properties.
The police report was filed after they were not among the rest of paintings returned to Spain after a series of international exhibitions.
These were added to an international stolen art watch list in a bid to prevent these from being sold to private collectors.
Investigators discovered the possible sale of the two paintings last October, which allowed them to trace the paintings to a prívate residence in Alicante Province.
The two pieces recovered are yet to be confirmed authentic by experts.
The only condition Julion Muñoz Ramonet set for Barcelona City Hall stipulated the conservation, preservation and maintenance of his legacy, which is why the council created the private foundation Julio Muñoz Ramonet in 1995.
Barcelona City Hall revealed that as they did not possess a definite inventory of the collection inherited from the businessman, "We did not know these works were missing," City Hall sources said.
However, it is thought the two paintings are included in inventories of Muñoz Ramonet's collections carried out in 1968 and 1971.
"Desconocíamos que esas obras estuvieran desaparecidas y que hubiera una denuncia, porque no somos los propietarios, y menos cuando ocurrieron los hechos", aseguraron fuentes del Ayuntamiento.
Several versions of La Anunciacion by El Greco exist, one part of the permanent collection of the newly opened Thyssen-Bornemisza Museum in Malaga and another can be found at Hospital de la Caridad de Illescas (Toledo).
By John Jackson