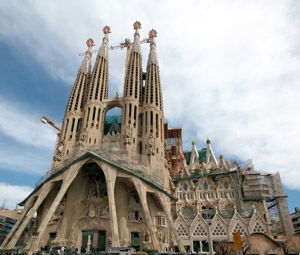 Barcelona's most famous landmark, the Sagrada Familia has been evacuated after a reported arson attack. Some 1500 tourists were ordered to leave the basilica after a man had reportedly started a fire in an area where priests put on their robes, called the sacristy.
Firefighters were called to the scene and extinguished the fire and although some furnishings were damaged there are no reported injuries.
Police have detained a man that they described as "disturbed".
Work started on the Sagrada Familia 130 years ago by architect Antoni Gaudi and is still not finished today, but Pope Benedict XVI consecrated the church in a visit last November which allows for masses to be held in the main basilica.