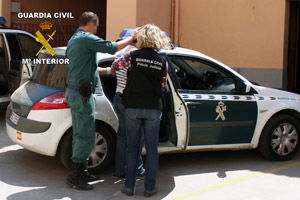 GUARDIA CIVIL from Murcia and Almeria arrested four members of a gang who committed armed robberies at several jewellery shops. This has solved two cases of robberies in jeweller's in Olula del Rio and Pulpi, and many of the stolen items were recovered during the search of a house in Aguilas. They used a car stolen in France as a getaway vehicle.
The robbery in Olula del Rio occurred at the end of March, where one of the employees was injured, and the one in Pulpi, just days later. A man and a woman pretended to be interested in buying jewellery while another waited nearby in the vehicle. The robbers used extreme violence against the shop employees.
Once they returned to Aguilas, they sold the stolen goods. They are charged with aggravated robbery, illegal association, document forgery and vehicle theft.