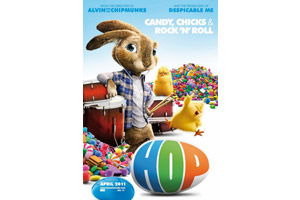 FROM the creators of Despicable Me, comes the ideal Easter film to keep the kids happy. Blending state of the art animation with live action, Hop is a comedy about E.B., the teenage son of the Easter Bunny. On the eve of taking over the family business, E.B. leaves for Hollywood in pursuit of his dream of becoming a drummer.
He has no interest in running the massive candy factory manned by chicks deep below Easter Island so the Easter Bunny can dispense treat-filled baskets to children everywhere once a year.
He encounters Fred, an out-of-work slacker, whose sister lets him housesit at her boss's mansion and sets him up with a job interview at a video game company. He thinks his luck has changed, but then he accidentally hits E.B. with his car. Feigning injury, E.B. manipulates Fred into providing him shelter, Fred finds himself with the world's worst houseguest.
Fred can't believe it when E.B. starts talking to him, and E.B. discovers that his father's armed guards are on his trail.
E.B. convinces Fred to help him with one last thing—an audition for David Hasselhoff's talent show. When E.B. is invited to the show, Fred realizes that he could take E.B.'s job as the Easter Bunny! Unfortunately, back on Easter Island, someone is already after the job. Carlos, the Easter Bunny's right-hand chick, wants to take over, and will stop at nothing to achieve his goals.
However, Fred and E.B. become unlikely friends who together save Easter.
Film review by Gabrielle Devon