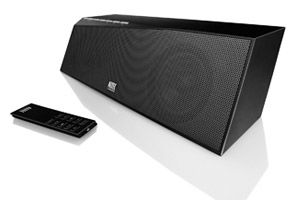 ALTEC LANSING'S inMotion Air iMW725 uses anything with Bluetooth to send the tunes to the inMotion Air speaker. This includes Apple gadget's native iTunes software, Android smartphone applications and even laptops or desktops. It is thus a wireless speaker rather than a dedicated Internet radio.
As Bluetooth has limited bandwidth, it has been souped-up with apt-X and Maxx audio technology, which combine to upscale compressed MP3 files.
With its five-hour battery, it can be carried around wirelessly and comes with an innovative USB dongle in the box that extends up to 100 meters.
It can be used with a laptop or desktop and has a line-out, so it is possible to hook-up to a laptop or hi-fi system and stream tunes.