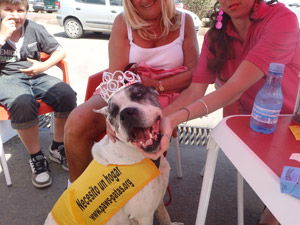 LAST weekends Gig A Crawl was hailed a resounding success by PAWS after a total of €1089.87 was raised to help the stricken animal charity. The brainchild of Paul Cathcart and Spectrum FM the event was a cross between a pub crawl and a concert with young Ashley playing in 10 venues along Mojacar playa from midday through to .
Starting at Bar la Finca at midday and finishing at The Irish Rover at 8.30pm Ashley played a set in 10 venues in total, 8 pre organised and 2 on the spur of the moment.
Second on this whistle-stop tour was Alvaron Cafe Bar where John Smith very kindly put on a free paella for all the revellers. Then it was on to Yvis Bar before an unscheduled stop at Mana De Cielo and Creme de La Creme delicatessen where Ashley performed an acoustic set.
Then to El Trebol (the new bar in front of the PAWS shop by the Parador Hotel on Mojacar playa) before Truffi Bar, El Cid, The Clue Lagoon and finally to The Irish Rover. It was amazing that Ashley's voice held up throughout the 10 hour performance but at each venue he was heartily applauded and all to packed houses.
There were a hardcore of people that were at each venue but in the main it was all new people many of whom had never seen Ashley play before. None were disappointed.
Different support vehicles were utilised to move equipment and people to each venue but in the main people walked to collect money from other bars and people they met along the way.
The Spectrumettes made unscheduled stops at The Cave Bar which was packed to the gunnel's with people watching The Grand National so a good collection was made there as it was at The New Kimrick. Captain and Mrs Chaos were everywhere on the playa with the Spectrum FM Noddy car collecting well at Tito's Beach Bar amongst others.
The final venue of The Irish Rover proved the perfect setting as people rounded off the day. As well as Ashley lots of other singers (including Helen DD) took to the stage to wrap up a perfect day out in Mojacar's beautiful sunshine; listening to great music whilst helping to save PAWS.
The total amount raised was presented to Janet Franklin from PAWS live on Monday's Almeria happy Hour on Spectrum 92.6 and 104.4FM.
She was totally flabbergasted by the amount collected and said 'I cannot thank Ashley and Spectrum FM enough for their help. Without your assistance PAWS was in serious danger of closing down. We now see bright light and the end of a very dark tunnel. Not just the Gig a Crawl but all of the pledges and events that Spectrum have organised have gone a long way to saving us.'
Such was the success of the event Spectrum FM will be organising another one later in the year but this time from the south end of Mojacar playa to take in bars that we could not go to this time due to the distance.
Also please remember that this was just a one off event to help PAWS but they need more help.
If you can pledge any amount per month for the next 6 months please do so or even when you are out shopping if you could buy some dog food and drop it to The Spectrum FM offices in The Parque Comercial on Mojacar playa or to the PAWS shelter by Turre. Every little bit will go a long way to save Mojacar's favourite animal charity.
Editor's Note: Upon hearing the amount raised live on Spectrum FM The Euro Weekly News Costa Almeria sales team went into Spectrum FM's offices and paid the €10.13 to make the grand total exactly €1,100. Thank you guys.
By Richard Shanley
{gallery}paws{/gallery}