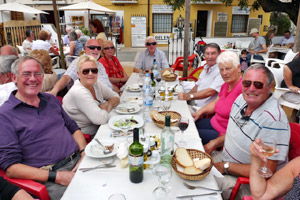 MEMBERS of the Mojacar branch of the Royal British Legion (RBL) left the playa on Saturday to go to the brand new Provincial Auditorium in Alicante to attend a benefit concert to celebrate the 90th Anniversary of the RBL. Performing were five choirs joined together to form one very large choir just for this event, Ruth Lorenzo a finalist from the X-factor, Just Brass ,Torrevieja Pipes and Drums, Cathy Carson and the magnificent All Angels.
It was a magical show very professionally put together with the performers providing a very high standard , and the whole show ended with all the artists joining together in a moving rendition of "We Will Remember Them" leaving hardly a dry eye in the place !
The event was also attended by some Chelsea pensioners and two members of the Army recently back from Afganistan .
Following the overnight stay in Alicante after the Concert, the Members then spent the day in Guadalest exploring the beautiful village and its eight museums – lunch was in a restaurant with views of the mountains and valley.