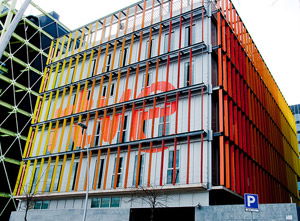 RADIO TELEVISION ESPAÑOLA (RTVE), Spain's state-run radio and television network, is in the red after losing €47.1 million in 2010. Much of the gaping black hole in RTVE's finances is traceable to the government's decision to scrap commercials on the entity's television channels for the first time since it began transmitting in 1956.
There was also a shortfall in payments due from private television channels and telecommunications operators who in 2010 failed to supply a total of €62.3 million.
By law these are now obliged to compensate RTVE's loss of advertising revenue with an annual 3 per cent creamed off the top of the earnings of free television companies, 1.5 per cent from private channels and 0.9 per cent from telecommunications operators.
Insiders accused the companies involved of having calculated these amounts on last year's net, not gross, income. RTVE would have received another €62.3 million if the sums had been done correctly, they complained.
The government also gives RTVE 80 per cent of the transmitting levy that radio stations, television channels and telecommunications companies must pay to the Ministry of Trade.
Problems began with the flawed prediction that RTVE would receive €330 million from the Ministry of Trade instead of the final total of €250 million.
Despite the losses RTVE had done its homework, insisted corporate director-general Jaime Gaiteiro. "In areas that were not beyond our control we spent less and earned more than was budgeted for," he said.
There was also an "if only" moment from RTVE president, Alberto Oliart. "Saving is one of my obsessions and last year we could have saved €40 million if we had been allowed to sell the Motorcycle Racing World Championship rights," he told a parliamentary committee last week.
But the real winners in 2010 were the private television channels, which enjoyed higher earnings during RTVE's first year without advertising.
The Antena 3 group reported net earnings of €807.7 million – an increase of 14.7 per cent – chiefly due to better performance in a market that grew by 3.8 per cent, plus a rise of 15 per cent in its own share.
With net profits of €109.1 million – 79.6 per cent higher than in 2009 – Antena 3 had few doubts regarding the improvement: "This increased market share reflects the elimination of advertisements from TVE," said a spokesman.
Telecinco reported profits of €70.5million, a 45.6 per cent increase on the previous year and echoed Antena 3's view that removing advertisements from TVE had boosted the earnings of the private channels.
Ironically, viewers are grateful for the absence of commercial breaks and viewing numbers have risen since their disappearance but audience satisfaction, as TVE has found, does not balance the books.
By Annie Maples
Picture Credit: albertizeme