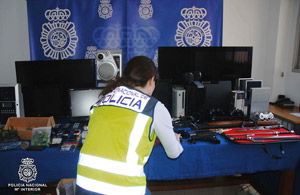 POLICE arrested two more members of a gang specializing in burglaries in Almeria. Several other members were arrested last month and in this raid, a third person managed to escape although he was later identified. The acted in groups of three or four, during the day, choosing isolated houses which they kept under surveillance before cutting through fences or jumping over walls to steal valuable objects which were sold on the black market.
During searches of properties police seized numerous items thought to have been stolen, as well as several guns and machetes.
A marihuana plantation was also found at the home of one of the detainees.