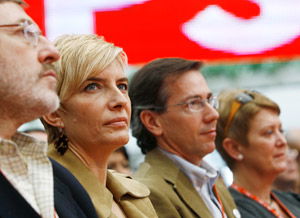 AS Spain's president Jose Luis Rodriguez confirmed he would not seek re-election, insiders knew that no-one could have been more pleased than his wife Sonsoles Espinosa. The news would not have come as a surprise, however, because although he kept this secret, Zapatero assumed the presidency in 2004 with the opinion of serving two terms and no more.
Making his announcement to the PSOE federal committee, Zapatero added that he also owed this to his family and Sonsoles would at last have seen the door to what she often described as a cage beginning to open.
Sonsoles likened Madrid to a 'seething pan' and she escaped from it by singing – she is a professional standard soprano who sings the Teatro Real and the RTVE choir.
Choir tours often take her abroad and she is said to love travelling abroad for the freedom it gives her, once telling an interviewer that she felt more unrestricted in Barcelona than Madrid.
Born in Avila in 1961, she and Zapatero met in 1981 when they were both studying Law in Valladolid. They have two daughters, Laura (18) and Alba (16), whose privacy they zealously protect.
There was an early falling-out with the Spanish media after paparazzi shots of the two girls appeared in a weekly magazine and more recently when they were photographed with Obama and were roundly criticised for their choice of clothes.
When her husband became PSOE secretary general of the PSOE, instead of rejoicing, the intensely private Sonsoles greeted the news with a sigh. And few now doubt that she greeted last Friday's announcement with one of relief.
Picture Credit: Partido Socilalista