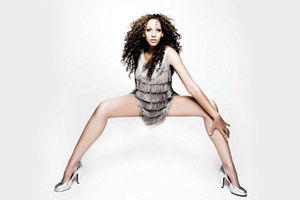 THE new performers for this year's season at Mallorca's world class dinner show, Son Amar in Palmanyola, have begun to arrive on the island. The eye-catching beauty, and incredible vocalist, Helene Jansen (pictured) is now performing every Saturday night in the 2011 Rock the World Son Amar show.
She has taken the lead singer role in the finale of the show, an exciting tribute to one of the world's best loved and most missed performers, Michael Jackson. Margaret Whittaker OBE, the producer of the show said: "We are building up to our opening night on Saturday April 23 when we will be launching the most spectacular show ever, and raising money for the international children's organisation UNICEF."
"Our new Rock the World show is jam packed with amazing performers; we are delighted to feature world champions, stars from Las Vegas and the best acrobats in the world: we're so proud!" she added.
The premiere is going to be a superb evening and for a very important cause too.
For more information call 971617533.