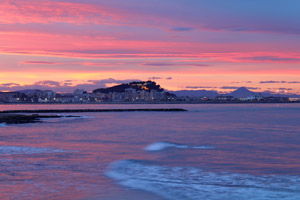 RESIDENTS on Denia's seafront are concerned at the news last week that their properties might be affected by a remapping of their shoreline under long standing legislation known commonly as the Coastal Act (the Ley de Costas, and which then may lead to compulsory purchase of their properties by local government.
The remapping may affect up to 1,000 homes in Denia.
Under the new demarcation area these properties would be re-designated as being within the coastal strip and as such subject to acquisition by the authorities.
The idea behind the original legislation was to protect the shoreline and immediate coastal area from unchecked development, but its provisions also affect legally constructed housing as well.
The demarcation line in Denia was drawn up in 1995 and affected many homes closest to the beach in the Las Marines road area, being over 6.5 kilometres in length stretching from the beach to Rio El Moli Racons. In the past properties were repossessed without compensation, but now Government compensation is available, and a concession was also made to homeowners whereby they were allowed to keep their properties for thirty years at the discretion of the government, with additional time given if the government deemed appropriate.
Now however, residents have found that the boundary could be extended. According to Sebastian Alcaraz, the vice president of a local Neighborhood Association for Deveses and Denia's Northern Beaches. At a recent meeting with Alicante's Councillor for Coastlines, Maria Auxiliadora Jordan, she advised him that the Government wants to apply the Coastal Law "more aggressively."
"It is the intention to move the boundary line back to the main road so that not only housing on the beach will be affected by the boundary but many more." said Sr. Alcaraz. He went on to point out that "There are about a thousand homeowners facing a situation where their properties will become totally devalued and that cannot be inherited, bought, or used as collateral because they are affected by this law."
In addition, owners of these houses, "cannot ask for permits or licenses to work in their fields," said Alcaraz. "If you really want to restore and preserve the beach, reimburse us for our homes but do not steal our property." He added.
"The Coastal Law is making a precedent by arbitrarily throwing away all the previous laws, with this exploitation of our homes. " said local resident Juan Moratal.
The North Beach residents Association will hold a meeting tomorrow (8 April) in Dénia, and on the 13 April there will be a meeting in Valencia, to be attended by the Mayor of Valencia, Rita Barberá.
At this meeting the Association will present a video of Dénia with an explanatory report and they intend to request the help of all concerned in order to solve the problem and modify the Coastal Act.
By Paul Deed