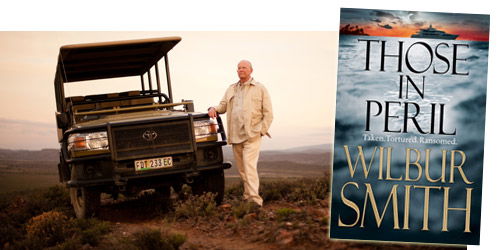 Wilbur Smith has sold 120 million books including hundreds of thousands in Spain. Now the latest adventure by the 78-year-old bestselling author – Those in Peril – has hit the bookshop shelves. Mike Walsh and EWN Editor Alfredo Bloy report.
BORN into a world very different to the one the vast majority of his global fans live in, for Wilbur Smith home as a child was Northern Rhodesia, which has since become Zambia.
The son of a cattle rancher of British stock the world-famous popular author found himself with 25,000 acres of forest, scrubland and hills in eastern Africa as his personal playpen.
After surviving cerebral malaria diagnosed at just 18 months old – a disease that at that time in Africa frequently killed, and if not caused brain damage – Wilbur nowadays ruefully concedes that "you have to be slightly crazy to write fiction for a living."
During his childhood days in the bush Wilbur was taught the skills of droving, dipping and branding by a ruthless disciplinarian of a father, whom he adored.
Weaned on his mother's storytelling he devoured the popular books of the period; Biggles, Just William, C.S Forester, Ryder Haggard and John Buchan.
As an eight-year old, Wilbur was presented with the family heirloom; a .22 Remington Repeater Rifle. Taught the shooting codes he added further notches to the 122 already inscribed in its stock.
It was the beginning of a lifelong love affair with firearms.
The rifle had been owned by granddad Courtney James Smith who had commanded a Maxim gun crew during the Zulu Wars; hence the Courtney series of novels.
With a pedigree and an apprenticeship like that he could hardly fail as a storyteller.
EWN: What is your new book about?
WS: An action adventure set mostly in the Indian Ocean and the East Coast of Africa. It concerns a blood feud between two families and is set in present time.
Dealing with Somalian pirates and oil producers, was this an attempt to keep the storyline current?
Because those events are much in my mind and other peoples at present, I examined the themes and those relationships with that theme.
What research did you carry out for the book?
The background was very clear given that I was born in Africa and have lived there my entire life, and at once stage had an island in the Seychelles which is right in the middle of all the piracy activity at the moment.
Also I know Somalia well as well as the Gulf States from former visits. So the background was very clear in my mind.
Fortunately one of my friends has a doctorate in geology so he led me through the structure and the techniques of oil exploration. It did involve quite a lot of work but all was very pleasant.
Is Novel 34 on the way?
Not yet! This one is still hasn't properly born yet!
What is the secret of your success?
That´s simple. To tell a good story.
Being successful is like anything, it takes a lot of work over a long period and application willing to learn your trade thoroughly. That is the secret I think of any job.
What do few people know about you?
What a charming man I am.
Those In Peril by Wilbur Smith
(Publication 01 Apr 2011 Price GBP 18.99, hardback)