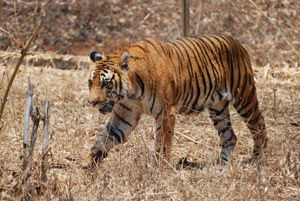 BHUTAN and Nepal, the last of six Bengal circus tigers found semi-abandoned in a ramshackle trailer in Cunit (Tarragona) in 2006 now have a new home at Safari Aitana (Alicante). After the six tigers were originally found in the garden of a property housing the remains of the defunct Circo Universal their owner, Belgian-born Frank Brucart was reluctant to let them go, offering instead to extend their living quarters with two more caravans and provide them with a swimming pool.
Brucart explained at the time that he had not known what to do with the animals once he was not allowed to use them as a circus act.
Cunit council refused to allow the tigers to remain in the town on the grounds that their cages would still not be secure or their living conditions satisfactory.
Four of the tigers were rehomed to a Madrid safari park in August last year and FAADA, the Barcelona-based animal protection association in charge of the operation, found specialised installations in Britain, the United States and India willing to take the two remaining tigers.
The Directorate-General for Foreign Trade turned down FAADA's request to rehome the tigers outside Spain but last January agreed to cover all costs, while Cataluña's regional government pledged to meet transport charges and other expenses incurred while settling in the animals at a Spanish location.
FAADA finally made contact with the Aitana park, which was willing to take on elderly Bhutan (13) and Nepal (15) on condition that there would be help available for building their new sleeping quarters.
Picture Credit: Paul Mannix